We've just made two enhancements to the Add Workflow page when creating new Flowsana workflows.
Easier searching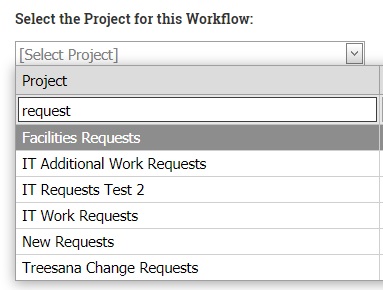 Previously, when typing into any drop-down field while creating a workflow – this means Projects and Teams, and for rule workflows, Tags, Users, Sections and Custom Fields – Flowsana used a "starts with" search method. That is, you had to type the exact beginning of the value you were wanting to set.
It now uses a "contains" search method instead. This means you can now type any portion of the value you're wanting to set, no matter where it occurs within that value, and you'll see a list of appropriate matches.
For those of you with large numbers of projects, teams, users, etc., this should make it much easier for you to find and set the value you're looking for.
Refreshing Flowsana with Just New Projects
As you know, when you make structural changes in Asana – adding, removing, or renaming projects, teams, users, tags, custom fields – you need to do a refresh so that Flowsana sees those changes. Previously there were two refresh options:
Refresh projects list from Asana
Refresh ALL data from Asana
Especially for those of you with a lot of Asana data, these refresh operations can sometimes take a while to complete.
We realize that in the vast majority of cases, what's happened is you've added new projects to Asana and you just want to let Flowsana know about those new projects.
So we've added a new refresh option, called Add NEW projects from Asana. As the name indicates, what this will do is just find new projects you've recently added to Asana that Flowsana doesn't yet know about, and add them to Flowsana's projects list. This operation is much quicker than either of the other two refresh options, and we think it's what you'll be able to use in the vast majority of cases.